Watch this quick Topcon Harmony® overview
Product Features
Harmony Features
Improve Operational Efficiency

Harmony's EMR connectivity eliminates the need to enter patient information at each instrument, so you can streamline your workflow, minimize transcription errors and reduce the need for instrument-specific software.
Customizable Clinical Views

Harmony provides a complete picture of the patient's eye health on a single screen. The clinical views can be easily customized by disease entity, so you see only the information needed to make a diagnosis or treatment decision.
Topcon Harmony® in Clinical Practice
Harmony delivers efficiency and
cost savings by streamlining workflows, minimizing transcription errors and reducing the need for instrument specific review software.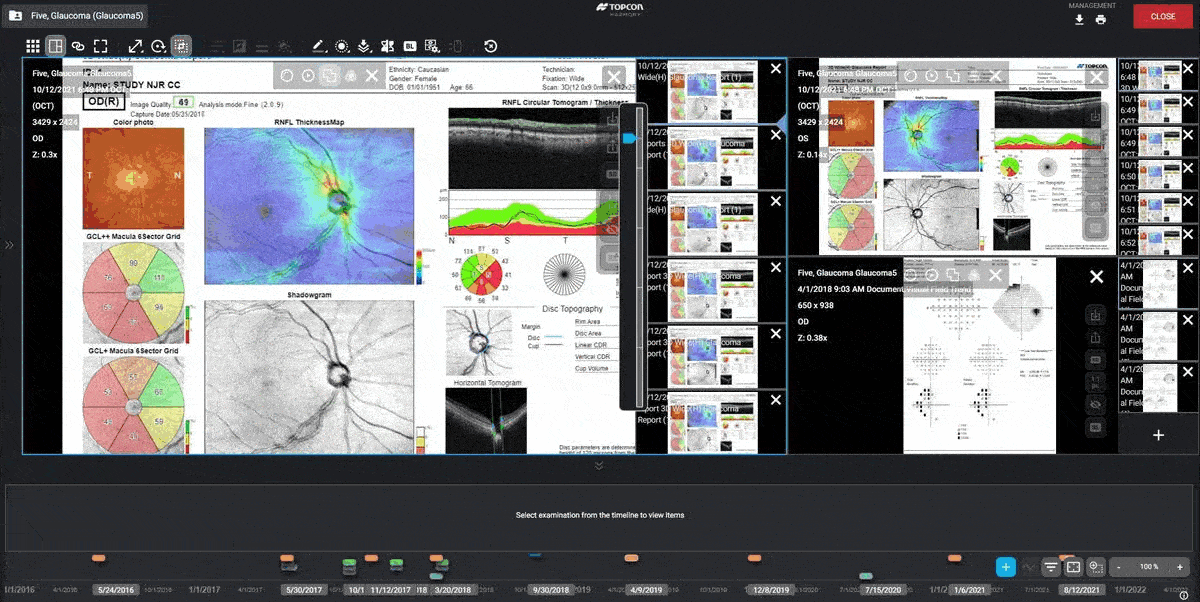 Ready to learn more?

Contact us today
TOPCON HARMONY USER WORKSTATION

Minimum Specifications

Processor

Any modern processor

RAM

4 GB or more (depending on browser and system usage)

Display

Full HD (1920×1080) resolution monitor

Browser

Chrome, Mozilla Firefox, Microsoft Edge Chromium (performance verified with the latest browser version upon each Harmony version release)

Network Connection

Volume OCTs and larger video files (> 50 MB)
• 50 Mbps (recommended), 25 Mbps (minimum)
Other file types (e.g. fundus images, PDFs, numeric data)
• 5 Mbps (minimum)

Operating System

Any operating system capable of running a supported browser

Other

Software for reading the User Manual in PDF format

HARMONY INTEGRATION SERVER

Minimum Specifications

Processor

2 core 64-bit

RAM

8 GB

Hard Drive

100 GB

Operating System

Windows Server or Workstation

Supported JRE

Java 8, Java 11 (recommended)

WEB WORKLIST
Supported Browsers

Chrome, Microsoft Edge Chromium

DATA CENTER (IN ON-PREMISE INSTALLATIONS)

Minimum Specifications

Network Connection

100 Mbps (recommended), 50 Mbps (minimum)

Power Redundancy

UPS and generator (ANSI/TIA 942-A 2014 TIER1)

Network Connection Redundancy

Two (2) different internet service providers

Other

Access to server management, adequate support from customer (for example, knowledge of Linux)

Supported Languages

Arabic, English, French, Spanish, Chinese, GB/UK English, German, Swedish, Danish, Estonian, Japanese, Dutch, Finnish, Norwegian
Topcon Harmony® Brochure
Topcon Harmony® Clinical Views
Topcon Achieves ISO 27001 Certification of its Harmony® RS Clinical Data Management System
Topcon successfully completes rigorous certification process, confirming our commitment to the highest level of data security and integrity.
Read more >
Topcon Achieves ISO 27001 Certification of its Harmony® Clinical Data Management System
Topcon successfully completes rigorous certification process, confirming our commitment to the highest level of data security and integrity.
Read more >
Frequently Asked Questions
What is the Harmony installation process?

Kickoff call is scheduled after quote signature to set expectations and schedule training
CSG and Hardware (if necessary, usually for visual fields) is shipped to location
Time is scheduled with lead technician to "get into" devices and install virtual printer software then test connections
Clinical Specialist trains staff on-site (takes approximately 1 hour, but CS will stay full day to ensure staff is comfortable)
What happens to my data if my relationship with Topcon ends?

The customer is responsible for providing a PC or server with adequate storage to hold all of the data. Once this has been identified, the entire folder structured is moved there along with the SQL database. Another option is the DICOM migration utility which will perform a mass export of all images and reports as OP DICOM files. This will not include OCT's (OPT DICOM).
How does Harmony connect to non-DICOM devices?

This depends on the device, but the image is usually exported to a folder location, the patient demographics are extracted from the file, and then sent together with the image into Harmony.
How does Harmony connect to devices that cannot access the internet?

As long as the device can save images on a network drive, images can be uploaded manually to Harmony. If the device has no network adapter port, we will provide a tablet and adapter cable that will transmit printer files to the CSG.
How is Harmony accessed through the patient's chart?

Harmony is accessed via weblink, which can be a separate button inside the patient's chart or hidden behind any existing button they are currently using to access images. We provide the customer instructions for using weblink with EMR template. It will be encrypted and embedded with the patient ID which takes user directly from chart to patient in Harmony, automatically logging them in.
What is the difference between LAN and ASP?

LAN is hosted on the customers server; ASP is hosted by Topcon. Both arrangements require a CSG to push images to the server. LAN is maintained by the customers' IT team; ASP is hosted by us. Note: Microsoft Azure hosts our ASP.
How does Harmony obtain its patient data?

Harmony interfaces with the customers practice management system and obtains the patient master list via HL7 ADT message.
How does the modality worklist operate?

Order is placed in EMR which communicates to Harmony via HL7 ORM message, patient demographic data is pushed to device via DICOM, then result is transmitted to Harmony via DICOM, then Harmony sends result back to EMR via HL7 ORU message. Assists with meaningful use stage 2: Orders and Results. Mirth connect grabs patient info ADT message, sends to Harmony to create record, there is a check to validate that patient is coming from EMR.
If the customer is on ASP/cloud and our servers are hacked, can they access the customer's EMR?

No, we take an "arm's length" approach to EMR so Harmony never has access to it. Harmony is accessed from the EMR via weblink, but there is no backward call to EMR.
How much bandwidth is required to run Harmony

At least 6MB of bandwidth upload and download (can be tested by going to speedtest.net), no T1 line or VPN required. Note: this could be different from Forum because it takes the OCT's database off the machine and places it on the LAN server so a lot of bandwidth is required to pull images back and forth.
When are an application server and CSG required?

If ASP, only a CSG is required on-site (Topcon can supply), if LAN, the customer will need a CSG and application server.
Is it possible to export images from Harmony?

Yes, when you export a single image you can chose from JPG or original format. If you select multiple images for export, they are exported as JPG in a zip file.
Related Articles