Watch this quick Maestro2 demo
Product Features
Maestro2 Features
User-friendly
Robotic OCT +
Fundus Camera
OCT and True Color¹
Fundus Photography
Single Touch,
Automated Capture
12x9mm 3D Wide Scan
with Hood Report
for Glaucoma
Full 360° Rotating Monitor
Allows Operator Distance
Small Footprint,
Space Saving
The Maestro2 in Clinical Practice
Key Features
USER-FRIENDLY: Robotic OCT and fundus camera with single-touch automated capture.
WIDEFIELD SCAN: 12x9mm 3D wide scan captures macula and optic disc and includes the Hood Report for Glaucoma.
HIGH RESOLUTION: Multimodal Imaging: OCT and true color fundus photography.*
COMPACT FOOTPRINT: Space-saving design fits into any practice setting.

*True, full color fundus image simultaneously captured with white light, 24-bit color.
Maestro2 OCT + Fundus Camera with Harmony® Clinical Data Management is a one-touch, one-screen diagnostic solution.
Ready to learn more?

Contact us today
Maestro2 Training Videos
To access our complete library of eye health education, register for Topcon Healthcare University today.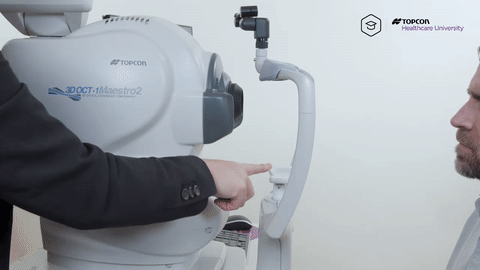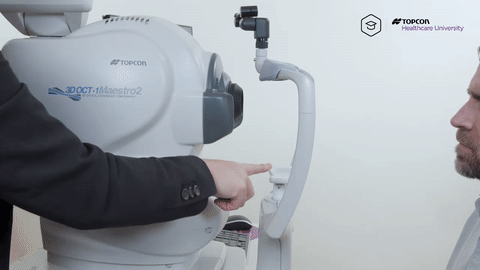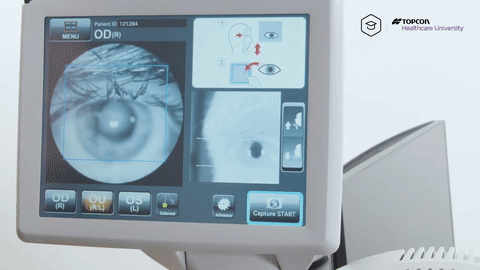 How to Capture an Anterior Segment Line Scan
How to Capture an
Anterior Segment Scan
How to Capture a Radial Anterior Segment Scan
How to Capture a
Radial Anterior Segment Scan
How to Remove Glare from Fundus Photos
How to Remove Glare
from Fundus Photos
How to Capture a 3D Wide Scan
How to Capture a
3D Wide Scan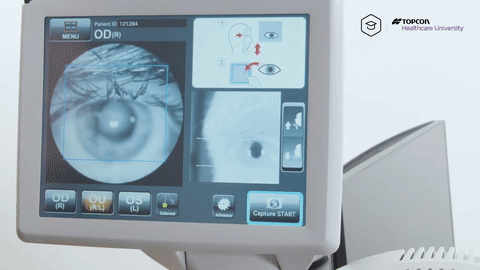 How to Capture a 3D Disc Scan
How to Capture a 3D Disc Scan
Retina Specific Scan
3D Wide Scan Review
Creating Reports
OBSERVATION & PHOTOGRAPHY OF THE FUNDUS
Type of Photography

Color, Red-free (Note 1) & IR

Picture Angle for Photography

45° ±5% or less
30° or equivalent (digital zoom)

Operating Distance

34.8 ±0.1mm (when taking a picture of fundus)

Photographable Diameter of Pupil

ø4.0mm or more : When small pupil diaphragm is NOT used.
ø3.3mm or more : When small pupil diaphragm is used.

Fundus Image Resolution (on fundus)

Center : 60 lines/mm or more
Middle (r/2) : 40 lines/mm or more
Middle (r) : 25 lines/mm or more
IR photography : Center: 5 lines/mm or more

OBSERVATION & PHOTOGRAPHING OF THE FUNDUS TOMOGRAM
Scan Rang (on fundus)

Horizontal direction 3 – 12mm ±5% or less
Vertical direction 3 – 9mm ±5% or less

Scan Pattern

3D scan (horizontal/vertical)
Linear scan (Line-scan/Cross-scan )

Scan Speed

50,000 A-Scans per second

Lateral Resolution

20µm or less

In-depth Resolution

6µm or less
Pixel spacing: 2.6µm ±2%

Photographable Diameter of Pupil

ø2.5mm or more

OBSERVATION & PHOTOGRAPHING OF THE FUNDUS IMAGE/FUNDUS TOMOGRAM
Fixation Target

Dot matrix type organic ELD display

OBSERVATION & PHOTOGRAPHING OF THE ANTERIOR SEGMENT
Type of Photography

Color & IR

Operating Distance

62.6 ±0.1mm (when taking a picture of anterior segment)

OBSERVATION & PHOTOGRAPHING OF THE ANTERIOR SEGMENT TOMOGRAM
Scan Range (on cornea)

Horizontal direction 3 – 6mm ±5% or less
Vertical direction 3 – 6mm ±5% or less

Scan Pattern

Linear scan (Line-scan/Radial-scan)

Scan Speed

50,000 A-Scans per second

ELECTRIC RATING / DIMENSIONS & WEIGHT
Source Voltage

AC 100 – 240V 50-60Hz

Power Input

70 – 150VA

Dimensions

340 – 480mm (W) x 543 – 680mm (D) x 530 – 735mm (H)

Weight

25kg
Time is Money: How Brandon Eyes Elevates the Patient Experience
Read more >
Empowering Providers with the Multimodal Maestro2
Read more >
Watch How This Top Practice Puts Customers First
Read more >
Related Articles