Complete remote eye care.

It's time to reinvent refraction.
to make eye exams more efficient.
Digital Refraction
Means Distance.
Digital Refraction
Means Distance.
Increase exam
speed and
efficiency
Topcon Healthcare sees eye health differently. Our vision is to empower providers with smart, value-driven and efficient technologies for enhanced care. Keeping pace with the ever-changing landscape of the healthcare industry, Topcon Healthcare offers the latest integrated solutions including advanced multimodal imaging, vendor-neutral data management and groundbreaking remote diagnostic technology.
Automated Binocular Refraction
CHRONOS
Chronos combines binocular autorefraction and keratometry measurements with binocular subjective testing and visual acuity in a single instrument that occupies a minimal amount of space and optimizes workflow.
OCT + COLOR
FUNDUS PHOTOGRAPHY
Maestro2
Capture high resolution OCT scans and true color fundus images with a single touch..
Diagnose and treat ocular pathologies earlier with a whole new level of clinical information.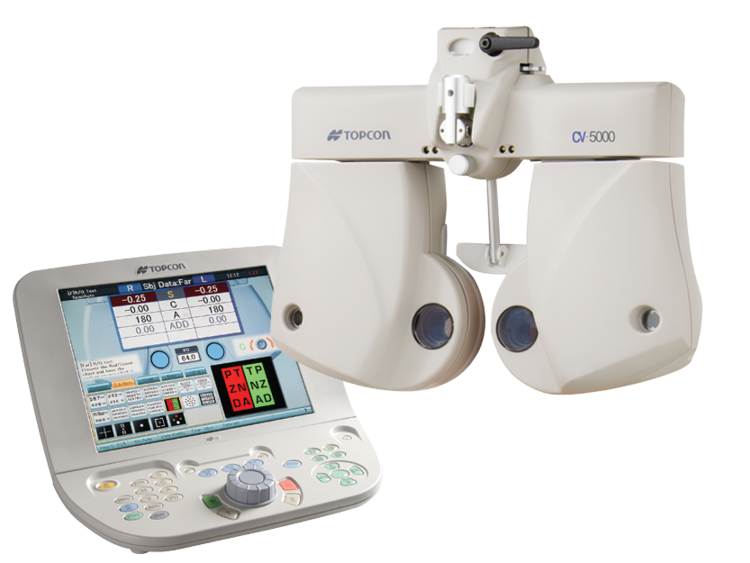 CV-5000S
Digital refraction solution that offers up to 13 feet of patient distance.
Topcon in the news
Practices that think about myopia as a disease – and…
Topcon Healthcare, will host a two-day virtual symposia and expo…
Topcon RDx® is an innovative eye health exam platform that…