Posterior & Anterior Interferometry
In one just one acquisition, capture corneal aberrations and previous corneal refractive surgery procedures.
IOL and Toric IOL Calculation
Aladdin guides you through the choice of the right IOL for each patient.
Topography
Full corneal topography provides K-values, specific data for toric IOL surgery, instantly detects regular and irregular astigmatism.
Aladdin is an easy-to-use, affordable optical biometer and corneal topographer.
Key Features
9-IN-1 INSTRUMENT – Axial length, keratometry, corneal topography, anterior chamber depth, lens thickness, central corneal thickness, white-to-white, Zernike analysis of the cornea, pupillometry
COMPREHENSIVE IOL POWER CALCULATION SOFTWARE – On-board Barrett IOL Calculation Suite, Olsen formula, conventional, post-refractive surgery and toric IOL power calculations
FAST, EASY OPERATION – Point-and-shoot acquisition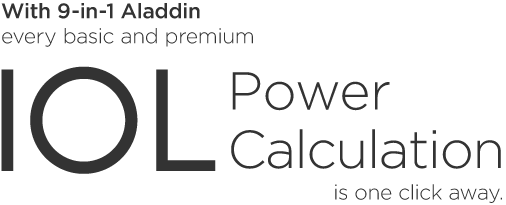 Ready to learn more?

Schedule your demo today.
Simply use the form below and your local Topcon Healthcare representative will be in touch soon. For technical support, please click here.