May 28,2021
Topcon to Showcase the Latest Innovations in Eye Care at Vision Expo East 2021
OAKLAND, NJ JUNE, 2021 – Topcon Healthcare, a leading provider of medical devices and software solutions for the global eye care community, is excited to announce its participation in Vision Expo East 2021, the premiere event for optometric professionals.
Topcon will be located in the West building of the Orlando County Convention Center at Booth #TF-433 and will showcase its latest technology solutions including the RDx Remote Diagnostic Platform, the multi-functional Aladdin-M topographer/ biometer, the Maestro2 and Triton OCT solutions, and Topcon Harmony, the latest generation software for eye care data management.
Vision Expo East 2021 will also mark the debut of Chronos, a revolutionary all-in-one1 automated binocular refraction system that allows eye care providers to speed up exams, optimize workflow and grow their practice.
In addition to its booth display, Topcon will be participating in an OCT workshop on Friday, June 4, 2021. Jay Haynie, OD, of Sound Retina, Tacoma, WA will join Greg Hoffmeyer, Topcon's Director of OCT Clinical Sales, for a presentation on how OCT technology can improve clinical decision making in retinal disease. For more info or to register for the workshop, click here.
"We are very excited for the return of in-person events like Vision Expo East, where we can meet face-to-face with a large number of our customers and display our state-of-the-art solutions for their practice. Our team has been hard at work leveraging the latest technology to develop products that enhance both practice workflow and clinical care. We look forward to a successful show as we debut these innovative solutions to the optometric community."

– Christina Kirby, Topcon's Director of Product Marketing for the Americas.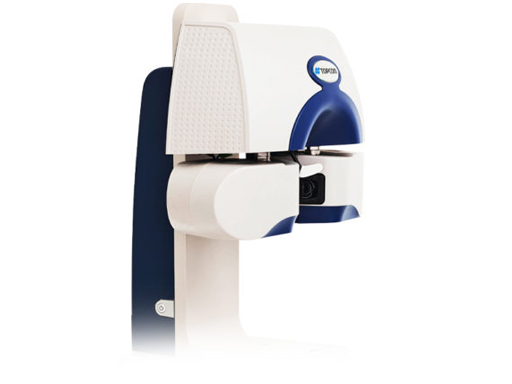 About Topcon Healthcare
Topcon Healthcare sees eye health differently. Our vision is to empower providers with smart and efficient technologies for enhanced patient care. Keeping pace with the ever-changing landscape of the healthcare industry, we offer the latest integrated solutions including advanced multi-modal imaging, vendor-neutral data management, safe distancing and ground-breaking remote diagnostic technology.
A globally-oriented business, Topcon is focused on developing solutions towards solving societal challenges in the mega-domains of healthcare, agriculture, and infrastructure. In healthcare, these challenges include increasing eye disease, rising medical costs, access to healthcare and physician shortages. By investing in value-driven innovations, Topcon works to enable people to enjoy good health and a high quality of life.
1. All-in-one system combines binocular autorefraction and keratometry with subjective binocular testing and visual acuity.